Tracking Lifting and Rigging Equipment
Kennedy Wire Rope and Sling (KWRS), established in 1979 in Corpus Christi, Texas, provides lifting and rigging equipment and systems to construction companies for use in large-scale industrial projects in the United States and other countries. In addition, the firm inspects and certifies the fitness of the materials it sends out into the field—and clients rely on those tests.
One KWRS client fabricates parts for onshore and offshore construction projects. The client was storing cables, shackles, slings and other parts in containers on job sites, with no reliable system to track and trace those items. Sometimes, it was easier for the client to call KWRS and request a new part than to hunt for the item in the job-site containers.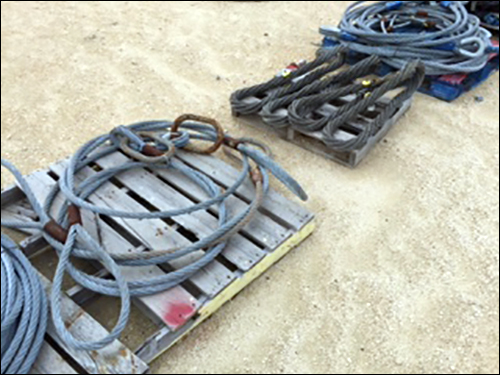 Wire rope sling storage
"In some cases, a part is worth $10, but other parts are worth $10,000 and more," says Jonathan Cloutet, KWRS' financial manager. If a $10,000 part was sitting at a site ready for use, but no one knew it was there, he says, that was simply an inefficient use of funds.
The client asked KWRS to provide a more efficient method to track and trace its own equipment—comprising more than 6,000 parts—and for the ability to access certification, usage and repair information online. Jeremiah Alspach, KWRS' inside sales manager, was tasked with finding the solution. "We needed to track items where they went, when they went out, who has them and when we get items back," he says.
KWRS also needed a way to store certification information online for the client. When equipment is returned to KWRS, each item is put through a "pull test" to ensure the strength of the load-bearing product. Once the equipment passes that test and is visually inspected, it receives a certificate indicating it is in good working order.
"This client buys products and wants us to store and maintain those pieces of equipment," Cloutet explains. "When they need it in Alaska, for example, we send it. When it comes back to us, we inspect it and store it again until they need it at their next job somewhere else. We track every product for them, hold it in our warehouse on their behalf, make sure it is up to spec and ready to be sent out."
In fall 2014, KWRS adopted an RFID asset- and inspection-management solution from Houston-based InfoChip. "Our customer enjoys using the system," Alspach says. "They are enjoying the cost savings. In less than a year of use, this customer has already saved tens of thousands of dollars."
Choosing the Solution
KWRS had used RFID to keep tabs on some items, but not on a large scale and not with any online component. Alspach knew the technology had become easier to use and that RFID data could be integrated with online systems. After researching options, he turned to InfoChip, which offered the RFID hardware, software and Internet application required—its RFID Asset & Product Lifecycle Management solution.
"Our client specifically requested that they be able to access certifications, locations, jobs, repairs—all that information—online," Alspach says. He and Cloutet agree that higher-ups at KWRS saw the benefits, knew the client needed the tracking and the online access, and the company easily decided to move forward with the InfoChip solution.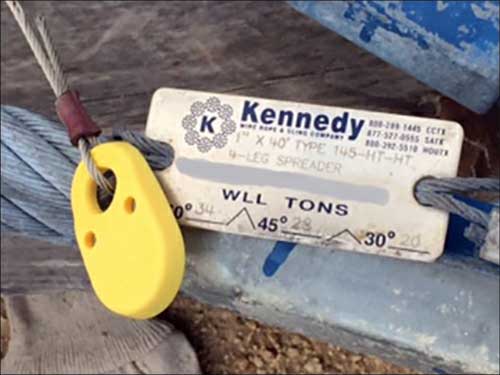 DuraTab attached to wire rope sling
The solution uses InfoChip's high-frequency rugged RFID tags—DuraPlugs inserted into the shackles, DuraTabs, which are crimped onto wire rope and nylon slings, and DuraBands, which are attached to wire ropes and some of the nylon slings via stainless steel ribbon.
The tags are read in KWRS's warehouse and at the job site using InfoChip's handheld Bluetooth Easy Reader, which can be paired with a desktop computer in the office, and with a smartphone or laptop in the field. (The tags can be read via any BlueTooth-enabled device that has InfoChip's app downloaded to it.)
InfoChip customized its software to meet KWRS' needs, says Dylan Sewell, InfoChip's account manager, but the solution is the result of years of developing RFID solutions for the company's customers. InfoChip's IC Online application compiles item-tracking records, so the client can view where various parts are located, where they are heading and what condition they are in.
The IC TestBench software compiles inspection certifications, which can then be uploaded to eQuip Online so clients can review reports themselves. Reports include certification and inspection schedules, test results, where items will be, where they are headed and more.
"It was really just about a month from the time the customer made the request of KWRS to the time all the equipment was tagged," Alspach recalls. "As we tagged each item, I loaded the chips with the information," such as its serial number, where and when it goes, testing results, the full catalog description and any repairs or replacements that are made. That information is housed in a database on an InfoChip server, using that company's proprietary software, but KWRS maintains and updates the content.
When a part comes back to KWRS, Alspach says, it is logged into the system for storage, certification and repair. If the part is damaged, or if it is never returned from a job, the repair or loss is charged to the job from which the part just arrived, not to the job to which it might be headed. Tracking and tracing has made this aspect of accounting easier for the client, too, he adds.
Deploying the Solution
There were no major hurdles to overcome, Alspach says. "We did have to figure out how to drill into the shackle to put the DuraPlug into it without compromising the integrity of the shackle," he notes, adding, "We got together with the manufacturer to figure out exactly where we could drill." InfoChip gave KWRS a special bit made to drill the shackles, but in the end, rather than drilling the shackles in-house, the company sent out that job to a machine shop, where it is done efficiently to KWRS' standards. KWRS tagged the other items.
The biggest challenge, Alspach says, involved entering all the information mentioned above. "In fact," he states, "we are still entering it, finding items that haven't gotten into the system or refining descriptions."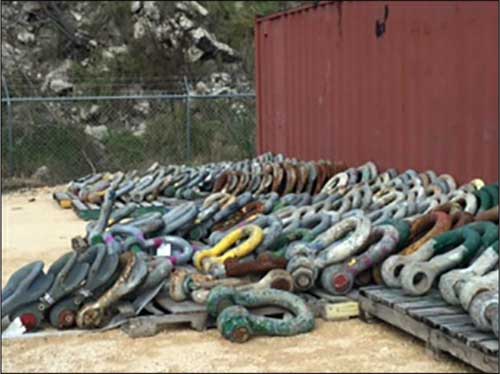 Shackle storage area
"We try to mitigate the data-entry hurdle," InfoChip's Sewell says. "We can import old information used on other systems, get old systems to talk to the new system. There is a lot we have to help customers get on board with more quickly," though he readily acknowledges the first year can be tough in the data-input arena.
Getting the pull tests to integrate with the IC TestBench software can be more challenging, Sewell notes, but InfoChip always sends someone to be onsite for that part of the turnover. "Sometimes, it can be complicated to get older machinery talking to the system," he says. "The pull test machine connects to our system. There is an analog-to-digital converter. Users can see the chart populate itself with the results as the test is performed. The certificate saying it passed the test is automatically uploaded" to equip Online, so the KWRS client can view it.
The learning curve for the software and the system is not too steep, Alspach says. An InfoChip representative spent a single day onsite at KWRS, and Alspach and several other KWRS employees attended a free, two-day training session offered by InfoChip.
After that, when individual questions arose, they were answered with quick phone calls directly to InfoChip.
Benefits
KWRS invested roughly $50,000 to deploy the RFID solution, Cloutet estimates. "That's for all the chips we will use, the software, the equipment, everything," he says. "Before, we weren't spending more than a few hundred dollars per year on traceablity and RFID, tracing one item here, one item there," he says, and there was no online database involved. Although Alspach recognizes that the cost is high for one customer, the business from that customer made it worth the investment, he says. What's more, he adds, KWRS can now offer the RFID solution to other clients facing similar storage, traceability and certification challenges.
"Before, we might have had to buy new equipment or manufacture something new for them and charge them for it because they were not able to keep track of it on their own job sites," Alspach says. "Now, because we know exactly where everything is because we, not they, are storing it, we just charge straight labor. The margins are much higher for both parties."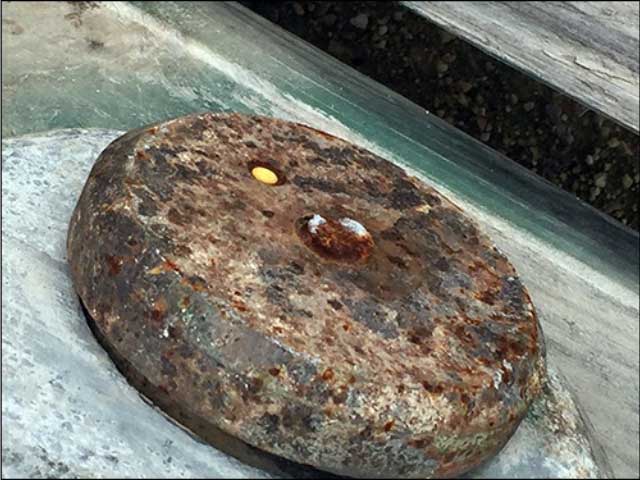 DuraTab in a shackle
When the client buys a new item, it is tagged and logged into the system, and the tagging cost is charged to the client. InfoChip's Sewell says the chips cost $2 to $4 apiece, depending on the volume purchased.
The customer is also able to more efficiently plan projects and schedule the transport of equipment to where it needs to be. The system tracks where a needed part is located, when it is available and how long it will be used, effectively eliminating costly downtime for the equipment. "Project planning is much more efficient," Cloutet states.
The online access to all that information has been a boon as well, Alspach reports. "On weekends, the client used to have to call us if they couldn't find a needed part," he says. "Someone here had to be on call to locate or order an item they might need. Now, they can go online, search for it themselves, see exactly where it is, how long it will be in use in the location, and its condition."
KWRS believes the RFID solution it adopted for this one client will also appeal to other customers that need to move equipment worldwide. "This is an investment we have taken on in anticipation of all our clients," Alspach says, "especially the larger companies wanting it."