InfoChip Bluetooth Easy Reader
As the world's leading RFID asset management total solution provider, InfoChip announces the release of its latest RFID product, the Class 1 Div 2 hazloc-certified Bluetooth Easy Reader.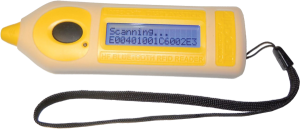 InfoChip's model RDR-BT-C1D2, IP67-rated HF RFID reader can be used to easily scan the unique ChipID of any ISO15693 or ICode HF RFID tag tag into any app on devices such as iPads, iPhones, Android smartphones, laptops, PCs, and most other Bluetooth-capable devices. The unique ChipID can also be viewed on the display of the reader itself.
The new model is certified in North America for Class 1 Div 2 hazardous locations and is well-suited for pairing with C1D2-rated tablet computers available from a number of vendors. The Bluetooth Easy Reader can be rebranded with custom logos and colors.
According to Chris Gelowitz, InfoChip's President & CEO, "Our new HF Bluetooth Easy Reader simplifies RFID adoption.  It requires no special setup or software to immediately gain the benefits of RFID asset tracking.  It simply scans the unique ChipID into any application or form on almost any Bluetooth-enabled device, including iPads, iPhones, Androids, handhelds, laptops and PCs."
The proliferation of RFID for tracking assets from cradle-to-grave and the growing need for straightforward, simple solutions spurred the product's development. The only reader with a built-in display, the Bluetooth Easy Reader shows the unique ChipID, configuration options and battery level. It's rugged, IP67 weatherproof and is able to scan tiny 8mm chips embedded in metal, including InfoChip's own line of extremely durable chips. The new reader is fully compatible with InfoChip's comprehensive asset management software suite.
Building on the success of their USB Stick Reader, InfoChip has successfully developed and delivered another reader for the needs of the industrial market. The HF Bluetooth Easy Reader is available through authorized InfoChip distributors world-wide.
InfoChip also manufactures a non-rated version of the Bluetooth Easy Reader model RDR-HF-BTDISP1. Both readers are IP67-rated for water and dust protection, built to withstand the rigors of an industrial environment, and can be rebranded.
Read more about the Bluetooth Easy Reader.